TICKETINO offers a variety of innovative and user-friendly software solutions for every ticket volume, in addition to various white label ticketing solutions. Depending on your needs and annual ticket turnover, the proper ticketing solution can make the decisive and profitable difference.
This makes it all the more important to consider your ticket volume and think about the specific demands you have on a ticketing system. After that, deciding on the right product is easy.
White Label Ticketshop Solution
If you, for example, have an annual ticket volume of more than 50,000 and this with several events or several organizers who would like to use the system, then an individually branded "Full Service Ticketing Platform" may be the right solution for you. TICKETINO White Label does not only provide you with the software including ticket shop, admin back end, box office systems, etc. but also takes care of all background processes if required, such as the management of the cash flow including all payment contracts, payout processes and the provision or management of the ticket agencies and the call center.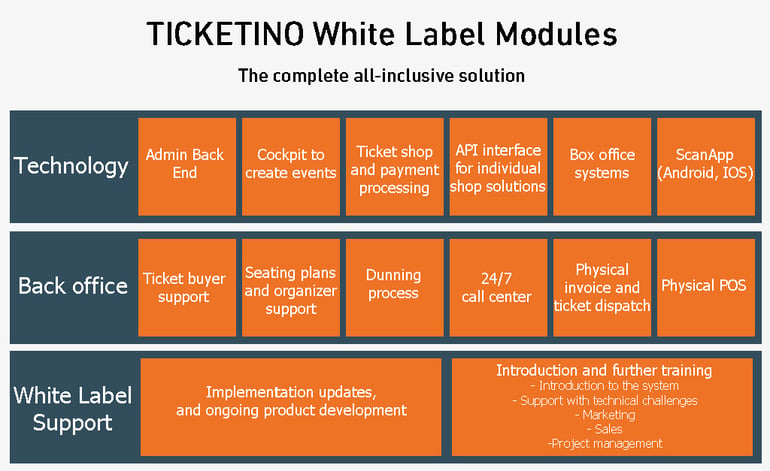 Custom Mask / Custom Form
Do you sell 25'000 - 50'000 tickets annually, but have special requirements for the purchasing process or design? Then an individual custom mask may be the right choice for you.
The booking process starts with an individual mask in your brand and on your website, while the rest of the booking process is done on the standard TICKETINO system. Here you can find an example of a custom mask.
Typical examples are slot bookings in which ticket buyers can book a corresponding time slot. Regardless of ticket volume, custom masks are also a popular option for locations with continuous operation such as museums or amusement parks, where individual branding is not the focus.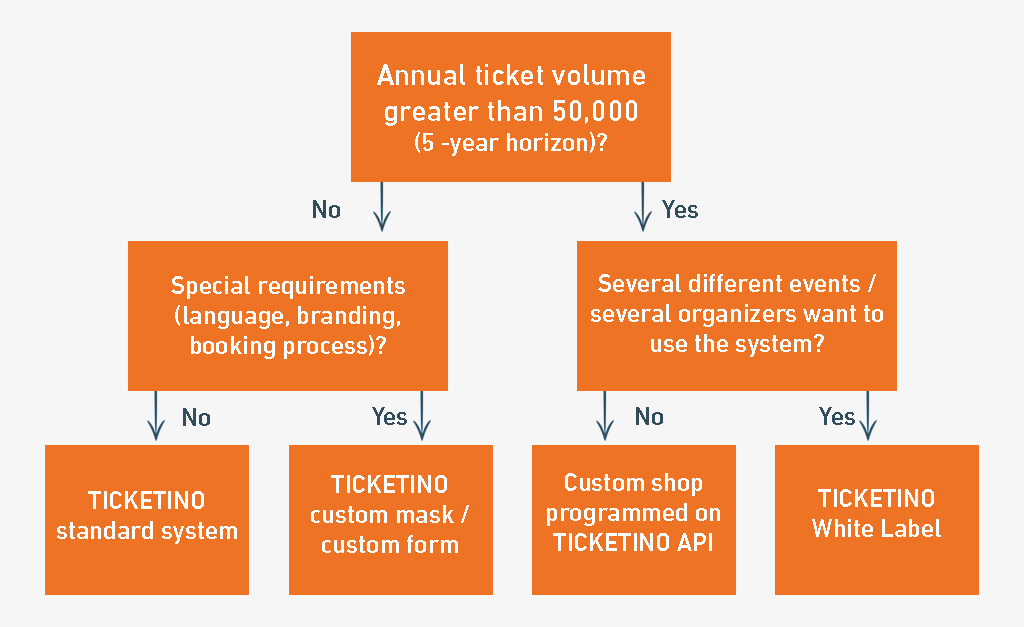 Figure: Decision tree for the selection of the suitable product.
Custom Shop
However, if you want to go one step further than a custom mask, because your individual design is important to you down to the last detail, TICKETINO also offers an open REST-API interface to which individual ticketing or guest management solutions can be created. In a custom shop the complete booking and payment process can be completely individualized and displayed in the corporate design of the customer.


This solution is particularly suitable for operators of museums, stadiums, concert halls, theater halls, congresses, etc.
We are happy to support you in your decision to choose the right product.
Our experts will readily advise you at marketing@ticketino.com. You can also make an appointment by telephone with a specialized TICKETINO employee by visiting us on our homepage and learn more about us.