Thanks to comparatively low implementation costs or fixed costs and attractive fee models, the TICKETINO White Label System is the first choice for various target groups.
In the previous articles we have briefly explained what a white label ticket system is and what advantages such a system can offer you.
Next, we will introduce the various target groups that benefit from the TICKETINO White Label solution:
Existing ticketing companies
Are you running a ticketing business using outdated software? Is your solution no longer secure, user-friendly, and moreover no longer up to date? Are there major investments pending for the development or acquisition of a new system, which are threatening your return?
Design your own shop with your brand and your corporate identity, transfer your events to a modern, user-friendly and above all secure system and benefit from all the features of the TICKETINO system, distribution network and back office.
Publishers / media companies
Do you own a publishing house or operate a media company? In that case the market entry into the ticketing business can open up new and interesting business areas for you. Ticketing and the provision of media services are complementary services by their very nature.
In addition to media placements, you can offer your organizer customers the handling of ticket sales or respectively support your ticketing customers with your media services in their event marketing. You will have events that provide particularly interesting content for your readers, furthermore, TICKETINO White Label offers you the ideal platform for the cost-effective handling of your own events.
Amusement parks and other locations with continuous operation
Are you an operator for an amusement park, a museum or a location with continuous operation and entrance fees? Then you can use the TICKETINO Representational State Transfer Application Programming Interface (REST-API), which offers a user-friendly surface to integrate your own shop solution.
Individual box office systems, admission control software (with or without hardware connection), ticket vending machines or own points of sale can be tailored exactly to your needs and programmed according to your corporate identity. In addition, TICKETINO's API is open, which means that apart from TICKETINO's development team your own developers as well as external providers can build on it.
Startups
Do you want to enter the ticketing business in a new market? But you neither have the budget for your own system nor do you know the necessary processes for successful ticket sales? If so, TICKETINO offers you an all-round carefree package with which you can immediately get started, even with little funds!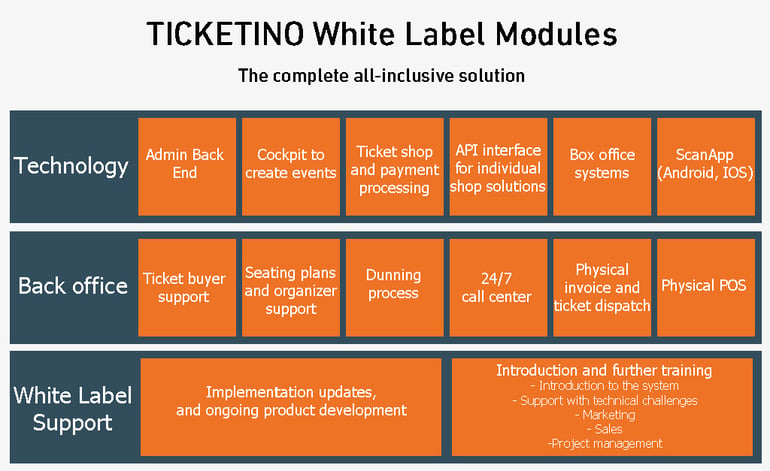 Thanks to the modular structure you are not only using the TICKETINO system, including your own shop with your look and feel, but can also outsource all processes that are not part of your core business or which you can't or don't want to manage in the beginning.
In addition to the technical aspects, this also includes organizer and end customer support, payment processing, ticket sales via call centers and physical points of sale, transaction processing, and dunning. The TICKETINO system is especially suitable for developing markets, thanks to its multilingual and currency-neutral features.
Individuals with access to the market (agents, sales agents, bookers, etc.)
Do you have market access to events or artists? Are you, for example, either a booker or do you operate in a market that has insufficiently been tapped in terms of ticketing? In this case TICKETINO White Label is the all-inclusive solution that will help you achieve your goal.
Outsource all processes to trained event professionals and focus on what you do best: customer acquisition. The highly competitive white label fees offer you interesting return opportunities with minimal investments and, of course, minimal risk.
Festival organizers / organizers with large ticket volume
Do you organize events with a large ticket volume, have special demands on your system or are tired of paying horrendous fees to use an external and impersonal system?
Then the TICKETINO White Label platform or a custom ticket shop can be of interest to you. (See here for an example of a custom shop)
Did we spark your interest? Visit us on our homepage!