The TICKETINO White Label Service Fee is designed in such a way that even at the highest service level it is significantly below the market price for ticket sales in the DACH region. Therefore, the competitive fee structure offers the service recipient many interesting options! In this blog post you will find out how you can earn money with minimal effort thanks to TICKETINO's white label ticketing solution.
Competitive Fees
It is important to know that the TICKETINO White Label fee, which is low compared to standard ticket system fees, includes everything you need and has no hidden costs. This is an all-inclusive fee. In other words: it is not an intransparent multi-component pricing system, as known from various system providers, which only appear to be cost-effective at first glance by splitting or hiding their fees.
Included in the fee are, among other things, transactional costs (credit card fees etc.), usage of the system (incl. continuous development and maintenance), server costs or access control software for computer, tablet or smartphone.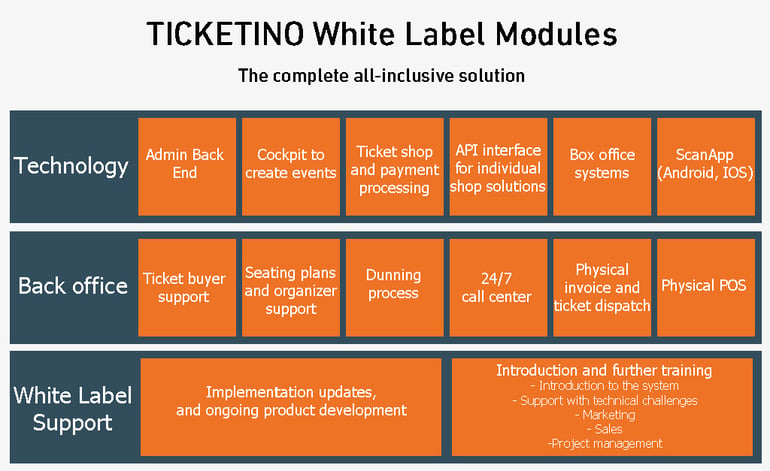 Depending on the service level required, the back office can also be used. This includes ticket buyer or event organizer support, the physical dispatch of invoices and tickets, the dunning process as well as physical points of sale and a 24/7 call center for ticket purchases by telephone. TICKETINO White Label thus offers a full-service ticketing solution on request.
Advantages of Competitive Fees for You
The low TICKETINO White Label fees allow you to earn money in two ways!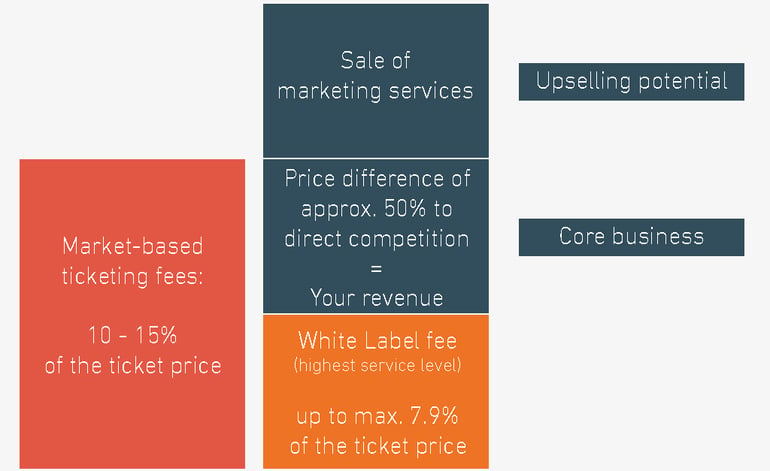 Your Core Business
Many ticketing providers charge a fee of up to 15% of the ticket price. If you also offer your organizers who use your platform the usual market fees, you can already generate profitable revenues with the price difference. Since TICKETINO White Label operates with low fees from 3.9% at the highest service level, there is already a price difference of a good 50% compared to direct competitors. If you want to do without services such as ticket buyer support etc. or if you want to handle the payment processing via your own contracts, the system can also be used with significantly lower fees.
Upselling Potential
Another way to generate more revenue is to sell complementary products or services that have synergies with ticketing. These include marketing services or web design. As a publisher, communication agency or operator of a radio station, you can, for instance, enrich your service level by including advertising and consequently demand a higher final price from your users by offering your customers advertising placements (ads, banners, etc.) for their events in various media.
To learn what the TICKETINO White Label System can offer you, download the White Paper, in which the advantages, target groups, functionalities, processes to outsource and much more are briefly explained.
Would you like to discover reference projects or book a product demonstration? Then please visit our homepage!